SEO is a Three Legged Stool
As I mentioned in yesterday's post, last night I got a surprise last-minute request to present to our WordPress meetup. The subject? SEO and WordPress. Good thing I've been doing it for a while…
So during the copious free time between finding out about the presentation and giving the presentation (all of an hour or so), I got to thinking about what SEO really is. As an SEO professional, it's easy to get caught up in rankings and keywords and such, but at its core SEO is about improving your website so you can be found more easily which will help you achieve your organizational goals – more sales, more leads, more exposure.
So, with that in mind, I talked at length about SEO as a three legged stool consisting of coding, content, and credibility. As a website owner, you need to focus on all three, or you'll fall on your ass!
Coding
Proper coding is a must for SEO. Thankfully for website owners, WordPress already provides so much right out of the box, and offers more with a bit of tweaking. Here are some things you can do to improve the coding on your WordPress site:
Remember – You don't really optimize your website, you optimize the pages on your website. Many website owners mistakenly work on optimizing only the home page and inevitably do it badly, because for particular terms and keywords there are usually specific pages on the site that apply far more directly. For example, if you have a website selling shoes, don't optimize the home page for open toed sandals. Optimize the open toed sandals page for open toed sandals.
Permalinks – The default permalink structure for WordPress installs is www.domain.com/?p=123 where "123″ is the page id of your post. In SEO terms, this URL sucks. What you really want is to use keywords (the words people use to search for what you have) in your URLs. So, get over to the Settings/Permalinks section of your Dashboard and use a Customer Structure with the postname in it. For my website, I use: /%postname%/%post_id%/
Page/Post names – Remember those keywords I mentioned above? Use them in your page and post names. Just don't go crazy, because you don't want Google to think you're over-optimizing things. Pick the one main thing your post or page is about, and use that in the name. That way, WordPress will automatically use that keyword in the URL and meta title – both good things for SEO.
Internal links – One of the coding "dos" that Google talks about is healthy internal links, that is, linking from one page on your site to another page on your site. From a visitor experience perspective, make it easy for people to get to your most important or most relevant posts or pages. Along these lines, I usually recommend using breadcrumbs, which are links that show the visitor where the current page is in relation to the home page. See my functional SEO resume as an example, with the breadcrumb on top.
Plugins – The beauty of WordPress is that whatever you might want to do, chances are somebody has already written a plugin to do it. For SEO, there are many excellent SEO plugins that let you tweak and measure the SEO for groups of pages or individual ones. Two I've used are All in One SEO Pack and WordPress SEO by Yoast. Both let you set global preferences for all pages and posts that you can override on a case by case basis, and give you different settings for your home page. The best part of these tools is, for the most part once you set them up you can forget about them. (The other best thing is that they improve immensely the optimization on your webpages.)
Content
Ten years ago, SEO was focused more on coding than content. Today, however, the search engines have wised up to the shenanigans people have been pulling. With the Panda and Penguin updates, and who knows what other zoo animals poised on the horizon, the emphasis now more than ever is on providing good solid content for your visitors.
So how do you improve the content on your WordPress website?
Be interesting – If you want visitors to read your posts, make them interesting. Boring, poorly written posts are no fun to read. Besides, the ever-improving Googlebots have figured out that those crappy posts are in fact crappy posts, and that will hurt their rankings.
Be regular – By this I mean try to maintain a routine your visitors can count on. Write whenever you want to, but publish your posts at the same regular intervals so people know when to come back. By providing regular, interesting content you engage and hold the interest of your visitors and turn them into regulars.


"When it comes to posting content, be regular. On that note, the restrooms are down the hall." – @yankeerudy

— carrie dils (@cdils) November 20, 2012

Be worth sharing – When you create interesting content that people read, they're going to want to share it. That helps to spread your writing, and you don't have to work extra to make it happen. Let the writing help you, not the other way around!
Be colorful – Use images in your posts to help reinforce the message or provide a humorous counterpoint. Visually, pictures and charts help ease the eye and get visitors to read more of what you wrote. Plus, you can optimize the images for further SEO gains. In WordPress, use the Title, Alternate Text, Caption, and Description fields to fully describe your image (using, but not overusing, your keywords). I've found occasions where my post ranked OK for a keyword, but the image in the post ranked far better on image search (and netted far more visits). Just make sure you don't run afoul of copyrights.
Be mindful – Think about what your target audience might be searching for, and write content about it. In fancier SEO terms, this is called "leveraging your keyword analysis" but really it's just giving people what they want.
Credibility
Picture yourself as an investment banker at a cocktail party, and you want to meet a bank president there. Would you rather an introduction from me, a simple web monkey, or would you rather one from Federal Reserve Chairman Ben Bernanke? Which one do you think will lend you more credibility? Well, SEO is a lot like that. You want credible inbound links and regular "buzz" from relevant sources, and those are major signals search engine want to see too. Here's how you do it:
Social share buttons - Nothing generates buzz about your writing quite like people talking about it on social media sites. Personally I tend to copy/paste URLs to share stuff, but why not make it easy to share by including social share buttons on your site? Some WordPress themes have sharing built right in, and some site owners are comfortable enough to write the code to do it themselves. If you can't do either, there are plenty of WordPress plugins to help you. I've had good experiences with AddtoAny and Socialize but there are lots more. Pick one and do it!
Inbound links – In addition to encouraging shares, go out and ask relevant sites if they'll link to you. Don't send form letters that read like you've never even visited their site, though. First go read their posts and get to know their style and topic preferences. Engage their readers in the comments, contributing worthwhile insights. THEN, reach out to the owner and tell them how much you've enjoyed reading and participating in their community and ask for the link. You'd be surprised how often that works.
Engage the audience – Use social media posts and comments, +1s and RTs to continue the conversation with your audience and spread the word about your content. Use blog comments (only don't expect ANY direct SEO benefit from that) to clarify your thoughts or answer questions. Get people talking and interested, and you'll find people linking to your valuable content without you even having to ask them.
SEO for WordPress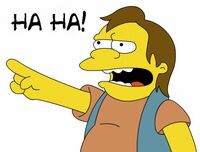 As I mentioned, the neat thing about WordPress is how well it's built to support SEO. Both out-of-the-box and via plugins and settings, it doesn't take much for any WordPress site owner to position themselves to gain the readership and exposure they want.
Now, get out there and write some great content. (And don't fall on your ass!)